Sculptor - Mare Costello
How does an artist reach past the noise and minutiae of life to find something elemental and true?  These are the age-old questions that have stuck with the sculptor Mare Costello.
Costello uses a visual language that is so stripped down as to be very nearly timeless.  Neither figurative descriptions, cultural references, nor academic experiments can be found in her functional/non-functional pieces.  Instead, Costello relies on simple forms and the sensuality of natural surfaces to conduct a creative quest.
A comment by the artist reveals a somewhat steely explanation for this approach; "Time, space and reality only figure as concepts that hinder my creativity," says Costello.  "I try not to use terminology or to strive for concepts or labels to define what is truly wondrous and paradoxical.  I do not use my work as a vehicle to express opinions but rather to express my soul speaking in a universal tone, without the burden of concept or "a point" to make." 
What the artist finds for herself may be described as a way to come closer to what is essential.  For a viewer, Costello hopes that the work will provide the same opportunity for meditation and introspection.
Costello grew up in Detroit and graduated from the Center of Creative Studies College with a BFA in Fine Arts, majoring in Sculpture.  In addition to her visual Arts Costello had established a reputation in the Detroit Techno music community as one of the first Djs and promoters of her generation.
For over a decade she has expanded her talents into filmmaking and performance, while, utilizing all her craft and experience as a Fine Artists, which, lead to showcasing some of her works in her movies, such as, TECHNO DIVA.
Sculpture Magazine
Costello has established herself in the art world with works realized in wood and metals.  Of her contribution to a downtown Detroit exhibition of outdoor sculpture by a group of Michigan artist.  Written by Thomas Wojtas for Sculpture Magazine.
"Costello's Public Observation Device - a single sheet of steel sanded and buffed to a mirror-like finish literally stole the show with its simplicity of design that demanded that one physically confront oneself and made one actually aware of the surroundings and what public means."
Style Magazine

"Mare Costello is a true creative who has spent her entire life creating art in one form or another.  Costello brings boundless energy and a broad range of talent to her creative pursuits ... such as her "Train Station," which was inspired by the iconic Michigan Central Station." 
Written by Tracy Donohue for Style Magazine.
Works currently available for purchase
FURNISCULPTURE
"Furnisculpture" are works which choose to comment on the idea that Art is as important and essential as the utility of a piece of furniture.
Furnisculpture 01
This piece was the first in the series of "Furniscuplture" and the most derivative of furniture.  Made from a beautiful piece of mahogany and cold steel rods.  The pairing of the soft warm wood and cold steel is apparent and intentional contrast that these elements can be harmonious.  Keeping the manufactured look of the rod intact, at the same time, hand carving a rather machined look to the wood I am able to pay tribute to Industry again.  It's a bit too tall to be a table. Then again it has the look of a light that couldn't possibly work.  
DIMENSIONS: 20" X 4' X 22" X 30"
Pricing and general questions inquire by email mare@freeproart.com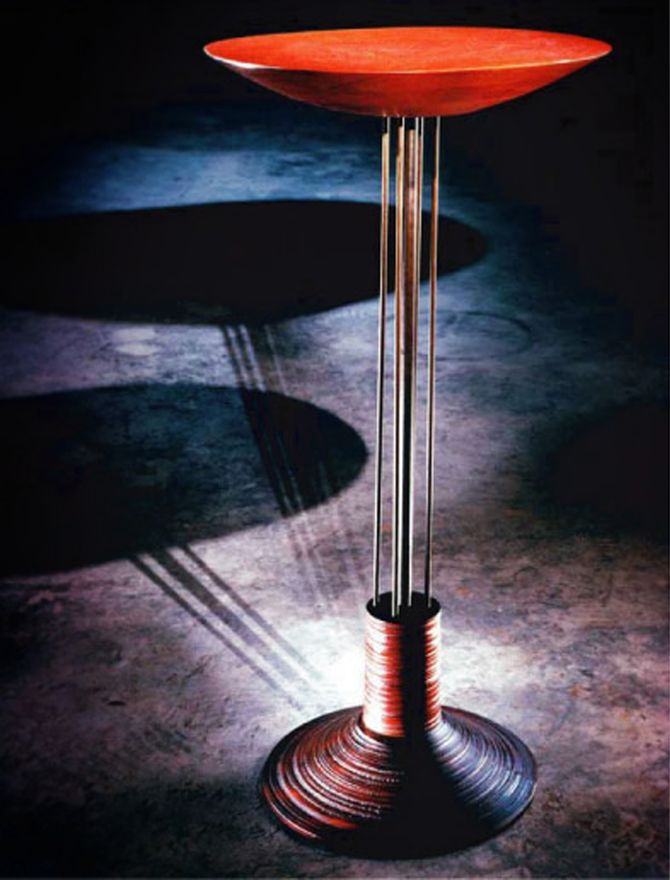 Furnisculpture 00
This is the original Furnisculpture which was hand carved in soap stone.  This piece was created before Costello had even formalized her concept.
OVERALL DIMENSIONS:  7 1/2" X 11 1/2"  
Pricing and general questions inquire by email mare@freeproart.com