Sculpture - Mare Costello
How does an artist reach past the noise and minutiae of life to find something elemental and true?  These are the age-old questions that have stuck with the sculptor Mare Costello.
Costello has established herself in the art world with works realized in wood and metals.  Of her contribution to a downtown Detroit exhibition of outdoor sculpture by a group of Michigan artists, Thomas Wojtas wrote in Sculpture Magazine, "Costello's Public Observation Device - a single sheet of steel sanded and buffed to a mirror-like finish literally stole the show with its simplicity of design that demanded that one physically confront oneself and made one actually aware of the surroundings and what public means."
Costello uses a visual language that is so stripped down as to be very nearly timeless.  Neither figurative descriptions, cultural references, nor academic experiments can be found in her functional and non-functional pieces.  Instead, Costello relies on simple forms and the sensuality of natural surfaces to conduct a creative quest.
A comment by the artist reveals a somewhat steely explanation for this approach; "Time, space and reality only figure as concepts that hinder my creativity," says Costello.  "I try not to use terminology or to strive for concepts or labels to define what is truly wondrous and paradoxical... I do not use my work as a vehicle to express opinions but rather to express my soul speaking in a universal tone, without the burden of concept or a point of make." 
What the artist finds for herself may be described as a way to come closer to what is essential.  For a viewer, Costello hopes that the work will provide the same opportunity for meditation and introspection.
Costello grew up in Detroit and graduated from the Center of Creative Studies College with a BFA in Fine Arts, majoring in Sculpture.  In addition to her visual Arts Costello has established a reputation in the Detroit Techno music community as an eclectic and distinctive Dj, both in club performances and for a time, at her own venue "Space."
Furnisculpture 01
This piece was the first in the series and the most derivative of furniture. Made from a beautiful piece of mahogany and cold steel. It's a bit too tall to be a table. Then again it has the look of a light that couldn't possibly work. The contrast of the soft warm wood and cold steel is apparent and intentional. Keeping the manufactured look of the rod intact, at the same time, hand carving a rather machined look to the wood I am able to pay tribute to Industry again. 
DIMENSIONS: 20" X 4' X 22" X 30"
Pricing and additional questions inquire by email mare@freeproart.com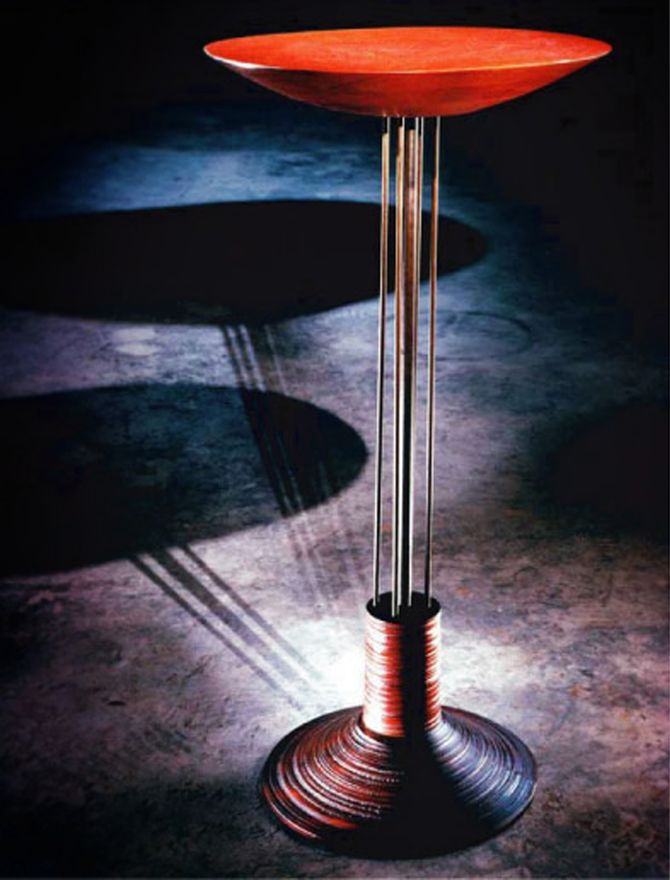 Broken Windows
Broken Windows shows a play on negative space. Having several windows separately cut I can arrange them as they were originally or in different groupings. The photo here show a 25 windows from the original 36 first exhibited. The use of a high gloss paint has become common place among the Steel Drawing Series. Again, contradiction is a fascination of mine. At first glance you may not know what materials you are looking at by the paint and finish but upon closer examination you detect a thickness in the material of the individual windows. Certainly after holding one you will know you have a substantial piece of metal in your hands. 
Steel drawing series are metal works using two sheets of steel, welded together where a plasma cutter was used to "draw" the photographic images of Detroit Costello has taken. 
BROKEN WINDOWS IS 5 ½' X 8'
Pricing and additional questions inquire by email mare@freeproart.com
Train Station
Train Station 
Here my affection for one of the greatest and most well known images of Detroit is expressed.  The Michigan Central Depot or Train Station, as it commonly referred to.  Creating a piece about it is a basic right of passage for every Detroit Artist.  Many a pilgrimage is made to its historic architectural steps.  Even the barbed wire can't keep out the curious.  To me it has been a contrasting broken symbol of power, fear, sadness, confusion, majesty, hope, history and my living representation of the entire city of Detroit.  My Train Station drawing shows the unavoidable view of its bridge over Vernor Highway where thousands and thousands of freight and passenger lines once moved feverishly for decades.  The station is colossal so my piece had to have an imposing scale.  I wanted to show how metal, like skin or the walls of a neglected Detroit building, degrade over time by letting it rust.  Is it a living piece of Art or a dying one?  A question many that look at the Train Station have.  I choose a living piece of Art.  
THE TRAIN STATION IS 4' X 10' WEIGHING APPROXIMATELY 574 LBS 
Pricing and additional questions inquire by email mare@freeproart.com
View
I love icons.  Singular images that conger  in our minds places, experiences, ideas, ideals.  This particular perspective is of Downtown Detroit.  The original scene I photographed struck me  by its drama and how train tracks give us a direct line and narrow our focus to a certain point in the landscape.  All roads point to the source. 
The dimensions are similar to a door echoing this idea of a path or way.  The choice to paint this piece the powerful and prosperous color red was absolutely out of character for me as I once intimated "metal is pure and I would never destroy it's integrity by tarting it up with anything that would cover it's intrinsic beauty."  But this was overridden because for some more important reason of just feeling it should be red would not leave me.  It simply had to be red!  Sometimes I don't have big reasons for my choices, I just see it in a vision.  My visions are sacred connection to my own creative source and fore me to disregard this would go against who I am.
VIEW IS 4' X 8' Weighs Approximately 412LBS
Pricing and additional questions inquire by email mare@freeproart.com